Event Date & Time
3/16/2023 8:00 AM - 3/16/2023 4:00 PM

Location
Embassy Suites Hilton Valencia
28508 Westinghouse Place
Valencia, California 91355
Thank you for your interest in this training. Unfortunately, we have closed registration because either the deadline has passed or there are capacity limitations. Please see our trainings list for other available trainings.
CalTAP Fair
Accreditation:
6 California Drinking Water Contact Hours awarded
Contact hours have been approved for the Registered Environmental Health Specialist Program.

Certificates will be awarded.
Date & Time:
The CalTAP Fair event will be held on March 16, 2023 | 8:00AM-4:00PM
Agenda: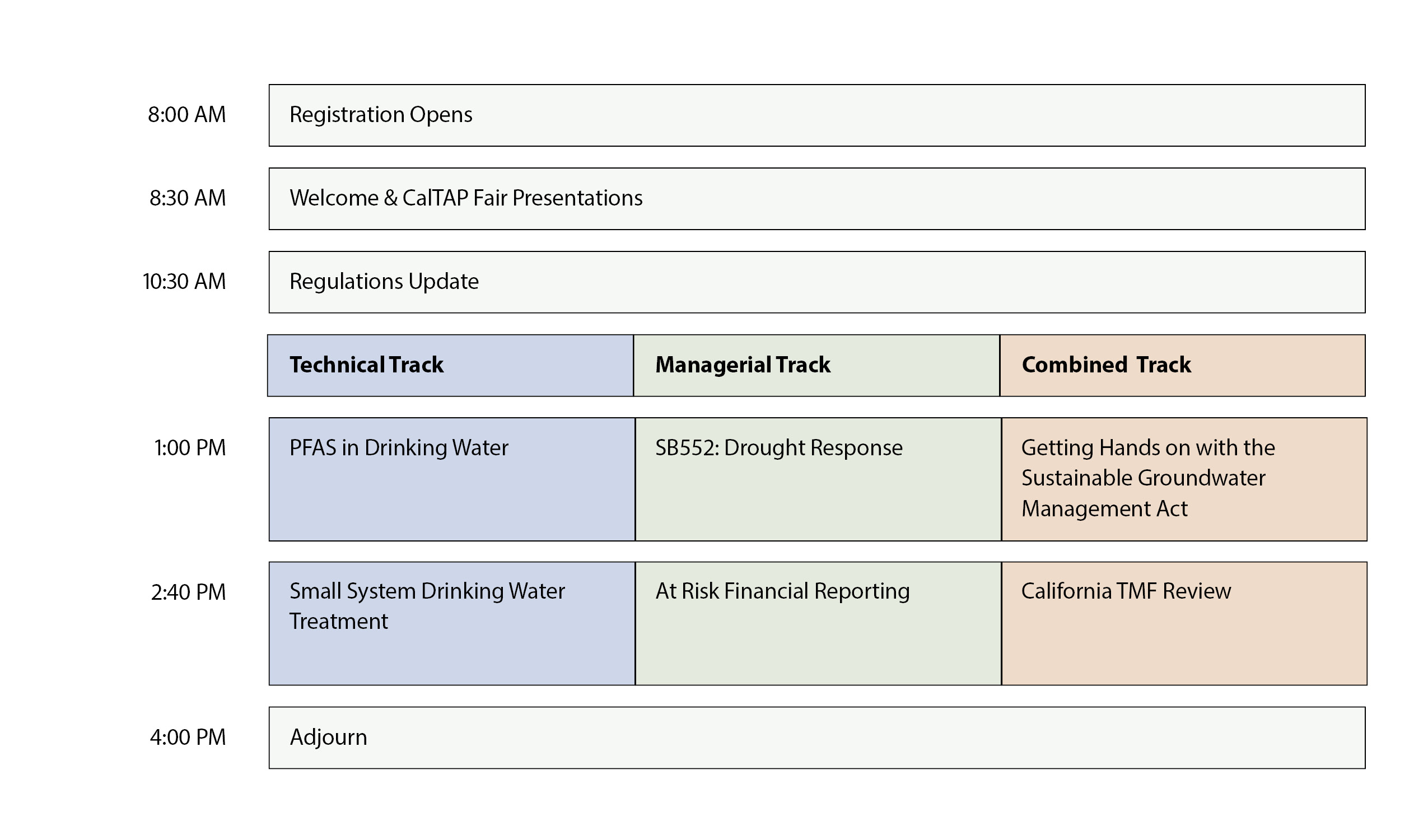 Description:
Join us & learn about the California Technical Assistance Providers (CalTAP) programs, funded by California State Water Resources Control Board. These programs provide onsite technical assistance & free workshops, as well as many other resources, for water professionals throughout California.
CalTAP Fair | Combined Track-Part 1 | Getting Hands on with the SGMA
The Sustainable Groundwater Management Act of 2014 (SGMA) has been called "the most important legislation in California in 100 years." SGMA mandates the sustainable use of California groundwater. Given the fact that many groundwater basins are in overdraft, implementation of sustainable practices will likely have a significant impact on small water systems that use groundwater from these basins.
In this session, attendees will have an interactive opportunity to experience the challenges of managing increasingly scarce groundwater amongst stakeholders with competing needs. Developed through a social science research partnership in response to SGMA, the Groundwater Game serves as a useful tool to gain insight into SGMA implementation & establishing a greater awareness of the varying interests & perspectives surrounding groundwater resources.
Participants will learn:
· Different management tools, including groundwater trading as local agencies develop their sustainability plans to balance the supply & demand of groundwater
· The importance of community engagement for SGMA implementation
· To experiment with different groundwater pumping & management strategies
· A greater awareness of groundwater resources & the multiple interests & perspectives from stakeholders
The recommended audience includes water system managers, operators, administrative staff & board members.
CalTAP Fair | Managerial Track-Part 1 | SB552: Drought Response
SB 552 includes new responsibilities & requirements to help small water suppliers & rural communities reduce their risk of inadequate water supply during a water shortage event. In this workshop we will share the emerging awareness & understanding of potential water shortage risks for small water suppliers & rural communities, & we will identify some of the roles & recommendations to improve drought resilience planning.
Participants will learn:
· New requirements in Drought Resilience & Water Shortage Response
· Improved communication & coordination recommendations between water users & government
· How to recognize emerging challenges to increased frequency & severity of drought conditions
· Planning strategies for water shortage vulnerability & disaster preparedness
The recommended audience includes operators, mangers, & elected officials.
CalTAP Fair | Technical Track-Part 1 | PFAS in Drinking Water
The issue of PFAS contamination is being highlighted throughout the country with many experiencing anxieties over possible water contamination. PFAS are a group of man-made chemicals which include Perfluorooctanoic Acid (PFOA) & Perfluorooctanesulfonic Acid (PFOS). Known as "forever chemicals," PFAS compounds have been found widely in the environment, including thousands of groundwater sources throughout US.
PFAS compounds are currently the #1 emerging threat to water systems. Continuing studies are identifying potential health risks associated with these chemicals. This session examines the origin, the concerns & provides information for small systems about protecting public health.
Participants will learn:
· Why these "forever" chemicals are not going away
· Where PFAS come from
· What the health effects of PFAS are
· PFAS regulations in drinking water
· PFAS treatment technologies for drinking water systems
The recommended audience includes board members, managers & operators.
CalTAP Fair | Combined Track-Part 2 | California TMF Review
Are you a considering applying for State Funding soon? There is a Technical, Managerial, & Financial Assessment (TMF Assessment) that must be completed prior to entering into a Financial Agreement with the State. This assessment looks at the technical, managerial, & financial plans & policies the water system has to ensure the water system can successfully provide safe & affordable drinking water to its customers into the foreseeable future. There are 13 core elements of the TMF assessment that the State will expect a public water system to have in place either before financing or within 6 months of project completion.
Participants will learn:
· Which TMF assessment is needed for their water system & where to find the forms & instructions
· What are the core 13 elements of a TMF assessment
The recommended audience includes board members, manager, & operators of public water systems.
CalTAP Fair | Managerial Track-Part 2 | At Risk Financial Reporting
The purpose of this training is to provide small water systems in California with tools necessary to accurately complete state required financial reports. The training will consist of reviewing financial statements, specifically the Statement of Financial Position & the Statement of Activities to determine where to find the information to enter into the reporting database.
Participants will learn how to:
· Identify where to find the required information on financial statements
· Accurately input financial information into the reports
The recommended audience includes board members, bookkeepers & decision makers.
CalTAP Fair | Technical Track-Part 2 | Small System Drinking Water Treatment
Many small public water systems in California require water treatment to turn the water into drinking water. The treatment technique used will be determined by the water source, what's in the source, drinking water regulations & your budget (how many customers you have). This could be no treatment at all, simple chlorination, filtration, greensand filtration, membrane filtration or other methods. This workshop will cover most of these topics.
Participants will learn:
· Surface water & groundwater quality basics
· The need for water treatment
· Water treatment techniques
· Budgeting & planning for water treatment techniques
The recommended audience includes operators, managers & board members.
Location:
This training will be hosted at the following address:
Embassy Suites by Hilton Valencia
28508 Westinghouse Place
Valencia, California 91355
(661) 257-3111
Click here to view Google map directions.
Scholarship & Fees:
CalTAP Fair is a free training.
Registration:
Register at the link below.
During the registration process, you will be asked to select the breakout session(s) you would like to attend. Please see above for descriptions of each session. Space for breakout sessions is limited & will be available on a first-come, first-served basis on the day of the training.
COVID-19 Health & Safety Guidelines
Welcome Back to onsite trainings! Masks are optional for our attendees, although our staff & trainers will continue to wear them for your safety.
RCAC is continually monitoring COVID-19, Center for Disease Control updates & local public health department for recommendations.
For registration questions, contact:
RCAC Events
registration@rcac.org
(916) 447-9832 ext. 1429

The CalTAP providers are:
· California State Water Resources Control Board
· Rural Community Assistance Corporation (RCAC)
· California Rural Water Association · Self-Help Enterprises · U.S. Environmental Protection Agency · Office of Water Programs, California State University Sacramento